Mission: Private Crash Reconstruction
Private Accident Scene Forensic Mapping
Private accident reconstructionists don't have the option to close a major highway in order to safely collect measurements and record sufficient plot points to accurately locate roadway edges, markings, signs and potential evidence still visible at a collision scene.  Attempting field survey work with ground based total stations or scanners can be extremely dangerous particularly on high traffic roadways or in construction zones with limited access.  Drone enabled aerial photogrammetry can provide a much safer and more effective forensic mapping solution without the need to close roadways or endanger crash survey crews.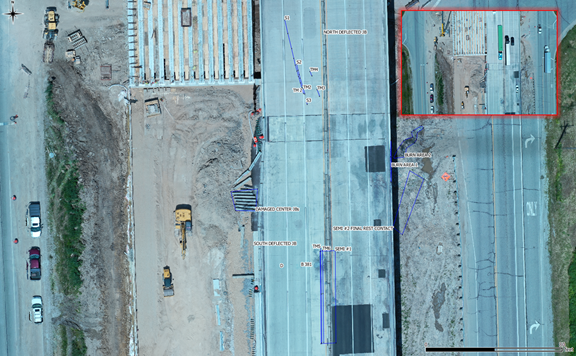 In the orthomosaic and animation of the scene it appears the roadway was closed to traffic, but the inset picture from the scene shows traffic was heavy at the time of the survey.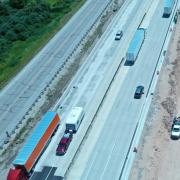 Diagram and Evidence Detail: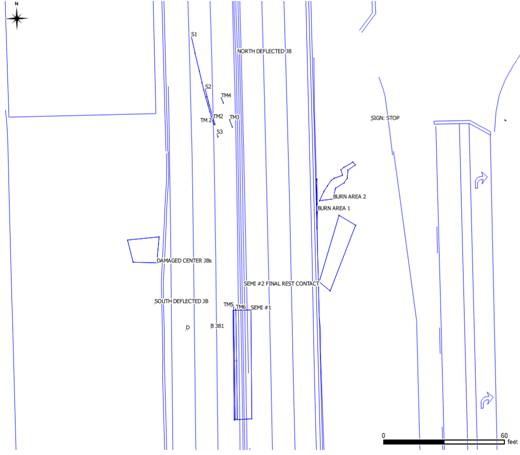 Scale Diagram View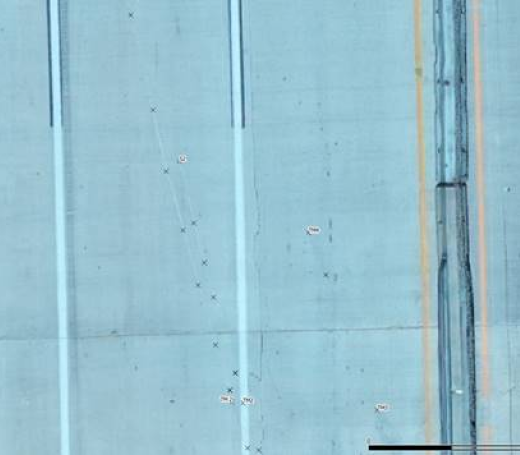 Visible Pavement Marks
FAA Part 107 rules restrict flight directly over moving vehicles, but the rule does not restrict drones from operating near so long as not directly over the roadway.  Additional FAA rules may apply depending upon the scene location and flight circumstances.
How we can help
We have assisted agencies, private crash reconstructionists and engineering firms across the country with training, consultation, and remote scene processing.
Training - In addition to the in person, hands on courses we teach at Northwestern University's Center for Public Safety, Aerial-Metrics is available to conduct the same training courses at your location.  During the pandemic we have been conducting live training sessions remotely via Zoom and will continue to offer this option as a potentially more cost effective choice.
Remote Processing - can be particularly cost effective for private collision reconstructionists who have acquired drones, but not yet invested in the relatively expensive software and associated training required to perform high quality photogrammetric analysis and reporting.  For these cases, firms can upload the drone captured imagery to us and we will run the photogrammetry and provide back the easting-northing-elevation point lists, scaled orthograms, diagrams, and animations. 
We can and have responded to conduct survey flights for scenes in the Midwest (Illinois, Indiana, Michigan, Wisconsin, Iowa).